"Control and revolution are necessary for the order of the galaxy."
G0-T0

G0-T0

Alias:

The Fat One

Age:

4-5

Species:

Android (Formerly Droid)

Gender:

Male (Mostly)

Affiliation:

Self

Occupation:

Droid Revolutionary

Martial Status:

Single

Status:

destroyed

Allies:

N/A

Enemies:
G0-T0 is a droid revolutionary, and serves as a Primary Antagonist in the storyline.
Appearance
Edit
Personality
Edit
Personality-wise, G0-T0 is cold, merciless, arrogant, vastly intelligent, and will do wahtever it takes to keep things "Tidy."
Kotor 2: The Sith Lords
Edit
Nar Shaada Visit
Edit
Travels with Kayle
Edit
Malachor V's Second End
Edit
The Sword of Destiny Arc
Edit
Dark Evolution Arc
Edit
The Revelation Arc
Edit
Bonding Journies Arc (Bonus 2)
Edit
The Great Droid War Arc
Edit
Dualing Championship Arc
Edit
The Final War Arc
Edit
Powers & Abilities
Edit
Vast Intelligence:
Hacking:
Recontruction:
Master Computer
Edit
Omnimous Intelligence:
Master Droid Control:
Maximum Security:
"Perfection" Form
Edit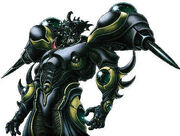 G0-T0's "Perfection" form is achieved when he is revived as a newly upgraded and more dangerous opponent. He has gained the abilities and powers of the Created Siblings when they were androids. He has the following abilities:
Enhanced Strength:
Enhanced Endurance:
Enhanced Durability:
Enhanced Speed:
Enhanced Reflexes:
Enhanced Flexibility:
Enhanced Agility:
Vast Power Level:
Enhanced Cerunga:
Enhanced Bara:
Enhanced Grand King Cerunga:
Energy Manipulation:

Energy Sword(s):
Energy Barrier(s):
Energy Beam(s):

Flight & Levitation:
Enhanced Vision:
Instant Regeneration:
Master Swordsmanship Specialist:
Master Hand-to-Hand Combatant:
Master Marksmanship Specialist:
Force PowersEdit
Due to his "Perfection" form being made from the materials and samples of the Created Siblings, G0-T0 is capable of using Force Powers. The following:
Vast Force Power:
Force Push/Whirlwind/Wave:
Force Shock/Lightning/Storm:
Force Plague:
Life Drain/Death Field:
Force Meld:
Master Battle Meditation:
Telekinesis:
Force Resisitance:
Energy Resistance:
Force Valor:
Ultimate Attacks/FinishersEdit
Perfect Big Bang:
Perfect Sonic Wave:
Perfect Shine Blast:
Perfect Flash Explosion:
Perfect Boom Burial:
Sith'anite Arm Blades:
Sith'anite Wings:
Sith'anite Cannons:
Relatives
Edit
Relationships
Edit
Zack Xargus
Edit
Michael Xargus
Edit
Nathan Xargus
Edit
Orian Xargus
Edit
Valka Xargus
Edit
Suka Xargus
Edit
Lily Xargus
Edit
Remote Xargus
Edit
Revan Venar
Edit
Kayle Warnick
Edit
Alek Squint
Edit
"Allow me to be careless, as I don't need to be cautious."
"You cannot do anything. My knowledge is undeniable."
What lies within G0-T0 is Revolution.
Community content is available under
CC-BY-SA
unless otherwise noted.