Queen Eve

Queen Eve (Natiya)

Alias:

Black Plague Queen

Parasite Eve

Age:

N/A (Formerly 30)

Species:

Human (Formerly Black Plague)

Gender:

Female

Affiliation:

Dr. Mason (Formerly)

Occupation:

Queen of the Black Plague (Formerly)

Martial Status:

Married

Status:

Deceased

Allies:

Dr. Mason (Formerly)

Enemies:

Zack Xargus (Formerly)
Natiya Mason is the wife of Dr.Mason, and the mother of
Fredrick
and
Edgar Mason
. She served as a major antagonist as the "Black Plague Queen", but has been returned to normal by the efforts of
Zack Xargus
.
Appearance
Edit
Natiya looks like an ordinary woman. She has short emerald green hair. Black eyes. Light skin. Slim body with C-cup breasts. And always wears green clothing.
Personality
Edit
Battle of the Gods Arc
Edit
Shattered Memories Arc
Edit
Rings of Naught Arc
Edit
Resurrection of Evil Arc
Edit
Dualing Championship Arc
Edit
The Final War Arc
Edit
A New Beginning Arc (Bonus 5)
Edit
Powers & Abilities
Edit
Queen Eve
Edit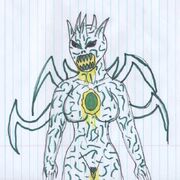 When Natiya got infected by the Black Plague Virus, she instantly transformed into a monster. She has pitched black eyes. Green jaggered teeth. Pale white skin with green veins appearing. Several spikes-like horns on her head. And several spider-like arms sticking out of her back. She had the following abilities:
Immense Strength:
Immense Endurance:
Immense Durability:
Immense Speed:
Immense Flexibility:
Immense Agility:
Acidic Blood:
Night Vision:
Extra Appendages:
Regeneration:
Telekinesis:
Infection:
Spawning:
True Queen EveEdit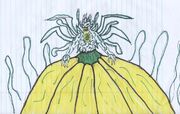 Enhanced Strength:
Enhanced Endurance:
Enhanced Durability:
Enhanced Infection:
Instant Regeneration:
Black Plague Control:
Extra Appendages:
Acidic Blood/Saliva:
Instantaneous Spawning:
Organic Shielding:
Family & RelativesEdit
RelationshipsEdit
EtymologyEdit
Community content is available under
CC-BY-SA
unless otherwise noted.